TRAVEL AND VISAS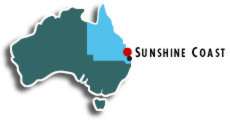 BreakFree Grand Pacific - Caloundra is just an hour's drive north of Brisbane on Queensland's beautiful Sunshine Coast, and only a short stroll to the sun-drenched sand & clear ocean waters of Bulcock Beach.
BreakFree Grand Pacific - Caloundra
100 Bulcock Street
Caloundra QLD 4551
Australia
Phone: +61 - (0)7 - 5436 4444
Fax: +61 - (0)7 - 5436 4455
Email: res@grandpacific.breakfree.com.au

Distance from Airport: Caloundra is 87 km (1 hour drive) north of Brisbane International & Domestic Airports, or 30 km (20 minutes) south of Maroochydore Airport.
Driving directions (maps):
From Brisbane - follow signs to Sunshine Coast from Airport Road, take the Caloundra exit from the freeway. BreakFree Grand Pacific is located at 100 Bulcock Street, Caloundra.
From Maroochydore - take the Sunshine Coast Highway to Caloundra, turn left into Caloundra Road at roundabout and continue to 100 Bulcock Street, Caloundra
Shuttle buses: Suncoast Pacific and Sun Air bus services operate from Brisbane (Roma Street Transit Centre terminal) and the Brisbane Domestic and International Airports, approximately on an hourly basis. For bookings (which is highly recommended, 2-3 days in advance) or further information -- depending on your arrival date/time -- please contact:
Sun Air: (07) 54770888, toll free within Australia 1800 804 340 -- operates from the Airport on individual bookings basis, close to your arrival time; approx AU$45 one way.
Suncoast Pacific: (07) 54431011 -- operates on a schedule; approx. AU$25 one way
We recommend you book online with Sun Air, which includes paying by a credit card to guarantee a seat. Alternatively, you can do the same over the phone. Sun Air shuttle buses depart on the hour from Brisbane International Terminal, and 10 minutes to the hour from the Domestic Terminal, starting from 6:00 am, the last service is at 9:00pm. In the booking form, please select: to Caloundra. For further information, please select the link to "Brisbane Airport to/from Sunshine Coast" on the menu bar on their website.

Once your are at your arrival terminal, please go to the exit and look for the shuttle with a sign Sun Air. On the Domestic terminal, this is near the Virgin Blue end of the terminal. On the International -- near the exit that's further away from the taxi rank.

There are some useful maps of the terminals at:
http://www.sunair.com.au/battransitstopinterprocedure.htm
http://www.sunair.com.au/battransitstopdomprocedure.htm

All travellers to Australia, other than Australian and New Zealand citizens, are legally required to hold a valid visa to travel to Australia. For event/conference participants, the appropriate visa is a Business (Short Stay) visa, even if some tourism activities are planned for part of the stay in Australia. It is called a 456 visa if it is issued as a label into a passport (fee of $A65 payable). The 456 visa can be applied for at an Australian diplomatic office overseas.
It can also be issued as a 977 visa if it is issued electronically as an Electronic Travel Authority (ETA), that is, no label (no fee payable). At post discretion, one or more visits each of up to 3 months can be made on the 456 visa within 12 months of its grant. The 977 visa allows a single visit only for up to 3 months within 12 months of grant.
Australia's Electronic Travel Authority (ETA) system is the world's most advanced and streamlined travel authorisation system. A recent innovative enhancement to ETA arrangements allows a traveller to apply for an ETA over the Internet. The ETA is an electronically-stored authority for travel to Australia for a short-term tourist or business entry. It replaces the visa label or stamp in a passport and removes the need for application forms. ETAs are issued within seconds of being requested through computer links between the department, travel agents, airlines and specialist service providers around the world.

Am I eligible for an ETA?
You are only eligible to apply for an ETA while you are outside of Australia. To apply through this site, you must also hold one of the listed ETA-eligible passports. If you do not meet these criteria, then you should contact your nearest Australian visa office for further options.
Travellers holding the following passports may apply for an ETA through this site:

Andorra
Austria
Belgium
Brunei
Canada
Denmark
Finland
France
Germany
Greece
Hong Kong SAR

Iceland
Ireland
Italy
Japan
Liechtenstein
Luxembourg
Malaysia
Malta
Monaco
Netherlands
Norway

Portugal
San Marino
Singapore
South Korea
Spain
Sweden
Switzerland
United Kingdom
United States Of America
Vatican City
Holders of Hong Kong British National (Overseas) (GBN) passports are not eligible to apply for ETAs through this site.

---
Home | Program | Submissions | Registration | Accommodation | Travel | Contacts